Home >>Products and solutions >> Sea freight
The most cost-efficient mode of shipping and the first choice for raw materials and articles to be processed
Link-bridge has good partnership with many world well-known shipping companies and a great number of specialized personnel engaged in sea freight of import and export. It has partners in major domestic port cities so that it is strong in local operational capacity and able to provide a series quality services such as booking space for full container load, less than container load and bulk cargo, distribution, customs declaration, inspection, cargo concentration in port, cargo track, etc.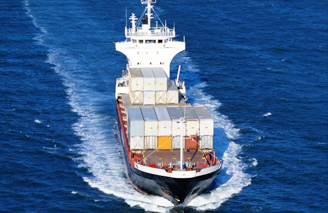 Service characteristics:
1. No limit to cargo weight and size provided that they comply with the air transport standard;
2. Fast, one-stop service of customs clearance, providing proxy service of customs declaration, supervision and transport, commodity inspection, quarantine of animals and plants and sanitary inspection;
3. Provide guarantee of service agreement, real-time cargo track and shipment track services;
4. the electronic booking space and on-line service cooperated with shipping company support fast transport and cargo control;
5. Accept special service of dress hanger container, reefer container, open top container, etc. according to client's requirements;
6. Provide tray, slide plate, shrink package film and packaging, sortation, short transportation, splitting of special cargos to meet client's requirements of individualized integration according to client's requirements
7. Provide reports based on anomalous events according to client's requirements.
We promise:
1. to guarantee the shipping space and ensure the transportation;
2. that the client can track the cargo via customer service and on-line inquiry;
3. to provide a track service that the client only need to face one customer service staff;
4. to provide safety guarantee of 24h all-around monitoring for the cargos temporarily stored in warehouse.